Spanish Tapas
18th March 2012
Location:

26 Glebe Point Road,

Glebe
Cuisine: Spanish
Contact Number: 02 9571 9005
Rating: 8/10 – Food is really enjoyable, the service was average. We do get the polite smiles, however they aren't as attentive as expected. It was a little hard to get their attention when in need.
I admit I have been here a fair few times previously – but all with different company. The people sharing your meal really do compliment the food.
So, we started the meal with a litre of the Sangria. "It's refreshing" was the instant response; it was evident when Candice was going for refills at a faster pace than everyone else. Our two girls, Candice and Felicia were at their best once again – choosing what were we were going to eat. As Jess, Savereen and myself just sat back anticipating the flavours which would excite our taste buds.
The first dishes that arrived on our table were the two salads, a traditional Spanish salad and a green salad. I started on the Spanish salad, and then went for the green salad. I was lucky to have started on the Spanish salad first as it was a bland salad in comparison to the green salad. The overpowering tangy taste from the balsamic vinegar would have made the Spanish salad simply tasteless.
Tapas! Patatas bravas (potato in spicy tomato sauce), there was a slight fried texture on the potatoes, for people who cannot take spicy – a warning that the sauce is rather spicy, but also enough to not overcome the tangy tomato.
Champiñones al ajillo (garlic mushrooms) and Chorizo (Spanish sausage), personally mushrooms aren't really a favourite choice but at the same time – I can never say no to garlic sauce. The creamy white garlic sauce and mushrooms was simply divine. The Chorizo was delicious; love the subtle hint of pepper in the sausages.
Berenjena rebozada (crumbed eggplant) and Zucchini rebozado (crumbed zucchini), eat this as soon as it arrives on your table as they are deep fried and are stacked one top of the other. The eggplant lacked a little flavour; add a shake of salt or some of the garlic sauce (from the mushrooms) and it could just be a close to perfect dish.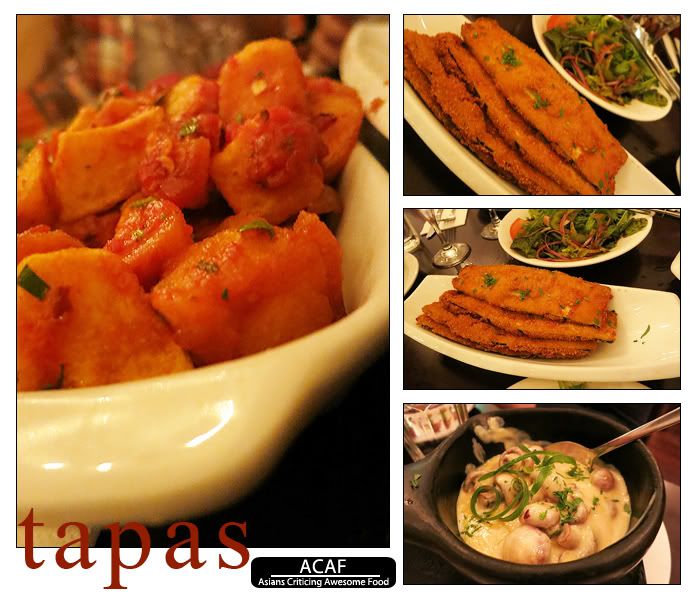 It does seem like we have already ate lots, but they were tapas. We must have some main as well – as this is mainly the reason why Felicia and myself seem to love coming back so much.
We ordered a paella valenciana (rice, chicken and seafood) for two between five people. It was delightful, however we had also ordered the zarzuela de marisco (seafood and fish medley cooked in tomato and white wine sauce) that simply outshone the paella. The fish simply melted on the tip of your tongue along with the sauce, which was delicious. The only thing stopping us from drinking the sauce was we had no spoons! And this is when our lovely Candice put her input in to finish our paella, "I really would drain the paella with that sauce." Though, her 'draining' would defeat the purpose of using up all the sauce.
Price range wasn't too bad, as we paid $250 in total between five people. The serving sizes for the mains were really generous and what can you say about tapas, as they aren't meant to be huge helpings.
Overall, this is recommended for those who would love a great place to catch up with great food. Highly recommend the zarzuela de marisco, as each time I go with people I simply love watching their faces when I see them trying the fish. No exaggeration.
- Cass x